Marion began her calling as an organizer for change in grade school when she rallied her classmates in support of a safe crosswalk across a busy street and into the school grounds. There was no looking back! Marion went on to be a feminist advocate for progressive social change. From 1968 to 1973, she worked at York University as an assistant to the president and helped the university faculty win their first union contract. In 1981, after Marion, Terry and Tina moved to London, she worked as the executive director of the London Battered Women's Advocacy Clinic, as a representative to the London Coordinating Committee to End Woman Abuse, as a board member at the London Cross-Cultural Learner Centre which advocates for newcomers and refugees.
In 1985, Marion, Terry, Tina and Joseph chose to be family and bought a house together in Old South London where they so much enjoyed the vibrancy of life in Wortley Village with its shops, pubs and public library.
All of their lives changed overnight when Marion was elected as a NDP member of the legislative assembly at Queen's Park. She was appointed to Cabinet as Minister of Education, then Minister of Community and Social Services. Concurrently, she was also the Minister Responsible for Women's Issues. She was then appointed Attorney General, the first woman to hold that position in Ontario. In 1993, Marion introduced Bill 167 that would have provided same-sex couples with rights and obligations mostly equal to those of common law couples. The Bill failed on a free vote, but Marion's attempts were vindicated five years later when the Supreme Court of Canada ruled in favour of those rights. Other difficult decisions as Attorney General were not without controversy, but Marion stayed true to her values and convictions.
After her time as a MPP, she remained engaged in public service. In 2000, she was appointed as chair of the Task Force on the Health Effects of Woman Abuse and authored its final report. In 2003, on the request of the Premier, she took on the controversial issue of Sharia law being applied in settling family disputes. Her overall conclusions were not adopted, but many of her recommendations were included in revised legislation.
Marion remained engaged in public service as a bencher at the Law Society of Upper Canada and as an adjudicator with the Criminal Injuries Compensation Board. In 2011, the Society awarded Marion a Doctor of Laws, honoris causa. York University did the same in 2017 at Convocation on the lovely campus of Glendon College, where Marion and Terry met as first year students. It was the ideal setting for a celebration of Marion's many accomplishments.
Marion retired to her family's lake house in Inverhuron where she enjoyed reading mysteries, gardening, hosting large deck parties and enjoying the camaraderie of family and friends—celebrations of several dozen guests were not uncommon.
As she had in London at Siloam United Church, Marion remained very active at Kincardine United Church as well as regionally and provincially, often gifting her mediation skills to congregations struggling with difficult choices. She chuckled when she was told that some of her admirers had nicknamed her the Bishop of the Bruce. Her faith was always the bedrock of her commitment to bettering the lives of those most in need of care and support. She undertook studies and became a Licensed Lay Worship Leader and then spent many hours planning services and writing sermons, very often with a focus on postcolonialism and the trauma inflicted on indigenous communities. Her commitment to truth and reconciliation was steadfast.
Terry and Joseph are grateful to their family doctor Helena Robinson in London for her timely intervention on Marion's behalf, to Joseph's nieces Peg who advocated for Marion when she was in hospital in London, and Kim who with her skills as a VON volunteer came to help care for Marion at home. And to Marion's palliative care team led by Dr. Susan Batten, and the Home & Community Support Team and to Care Partners' nurses Leigh Rae and Maddie, to Sarah the daily PSW, and the staff at Gordon Pharmasave. And her ministers Gord Dunbar and Judy Zarubick for her supportive visits to our home, and all Marion's dear friends in the United Church whose prayers and notes with good wishes sustained her to the end.
The prayer that Marion's daughter Tina wrote for her own Celebration of Life is so perfectly penned for her Mom's as well:
"God of wisdom and compassion, who has given us another day to use our gifts and talents for the sake of others, inspire us with renewed commitment and energy. Help us to use our gifts and talents to help our fellow humans and to return those gifts to the Lord."
Marion's life of service is a gift to be treasured.
*****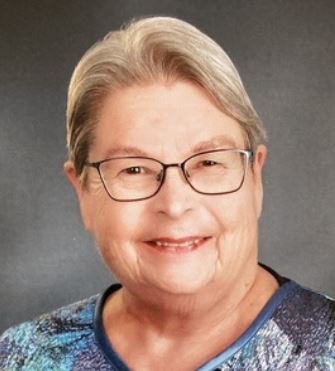 Marion died peacefully at home on October 11, 2022, at the age of 76 years, supported by her loving husband Terry, dear friend Joseph Addley, family and friends. She was predeceased by her and Terry's beloved daughter Christina "Tina" who died in 2017 after a brave struggle with MS.
The memorial service celebrating Marion's life (which took place at Kincardine United Church, on Sunday, November 6, 2022) can be viewed here: